Jacob Stainer (c. 1617-1683) is the earliest and most important Austrian luthier.
Stainer was born in Absam, Austria, into a family of stringed instrument makers.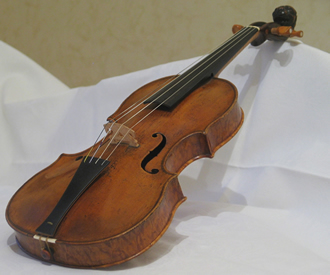 His designs influenced instrument construction in Germany, parts of Italy and several other countries.
He may have been associated with the luthiers of Cremona, Italy, in particular the Amati family. His instrumens were among the most highly sought-after throughout Europe until Antonio Stradivari rose to fame. Stradivari's instruments are flatter and broader and produce a more powerful sound, and this became the preferred sound of musicians.
Stainer's violins are comparatively rare today and very few of his violas, cellos, and basses are known to exist.
[edit]
Characteristic features of his instruments
* broad lower back
* higher arching of the belly than the back
* highly skilled craftsmanship particularly displayed in cut scrolls and occasionally carved heads of lions, angels, or women
* varnish ranging in color from amber to orange-red, comparable in brilliance to Cremonese varnish
[edit]
Label
Jacobus Stainer in Absam
prope Oenipontum fecit 1663
translation: made near Oenipontus (Latin for "Innsbruck")